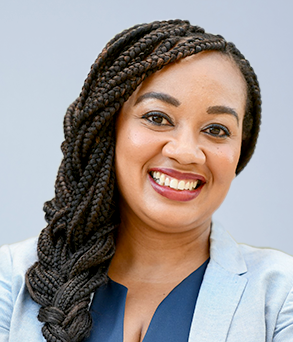 Nicolette Louissaint
Senior Vice President, Policy and Strategic Planning
Email: nlouissaint@hda.org
Dr. Nicolette Louissaint serves as the Senior Vice President for Policy and Strategic Planning for the Healthcare Distribution Alliance (HDA). In this role, she leads HDA's efforts to build policies and strategic approaches to bolster supply chain resilience and reinforce the role of healthcare distributors in the healthcare ecosystem.

She previously served as the Executive Director and President of Healthcare Ready, a 501(c)(3) organization that focuses on strengthening the United States' healthcare supply chain preparedness and response before, during and after natural disasters and disease pandemics. Under her leadership, Healthcare Ready strengthened its position as a facilitator and coordinator that improves our nation's ability to plan for and respond to threats that disrupt patient access to healthcare during crises, including COVID-19.

Prior to this, Dr. Louissaint served as the Senior Advisor to the U.S. Department of State's Special Coordinator for Ebola during the height of the 2014 epidemic. In this role, she was responsible for coordinating international efforts and jumpstarted the diplomatic response to the epidemic. Earlier in her career, Nicolette served as a Foreign Affairs Officer in the U.S. Department of State's Bureau of Economic and Business Affairs. As the lead officer for health intellectual property and trade issues, she developed on policies and strategies related to pharmaceutical counterfeiting, pharmaceutical trade, supply chain, climate change and other science and technology development issues.

Dr. Louissaint previously served on the Federal Emergency Management Agency's National Advisory Council in 2019 and chaired the Equity Working Group. Her current roles also include serving on Baltimore City's Sustainability Commission, as a board member of Project HOPE, and as a Co-Chair of theHealthcare and Public Health Sector Coordinating Council. In 2020, Dr. Louissaint was named one of The Root 100 Most Influential African Americans.

She earned her bachelor's degrees in Chemical Engineering and Biological Sciences from Carnegie Mellon University, a PhD in Pharmacology and Molecular Sciences from Johns Hopkins University School of Medicine, and an MBA from the University of Baltimore. She completed post-doctoral fellowships at the Johns Hopkins University and the American Association for the Advancement of Science.