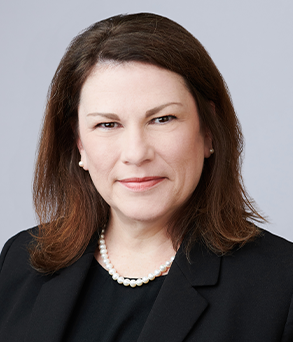 Elizabeth A. Gallenagh
General Counsel and Senior Vice President, Supply Chain Integrity
Email: egallenagh@hda.org
Elizabeth A. Gallenagh is the General Counsel and Senior Vice President, Supply Chain Integrity at the Healthcare Distribution Alliance (HDA). She is the organization's chief legal officer, overseeing all legal matters for HDA. Gallenagh also serves as HDA's primary expert on prescription drug traceability, supply chain safety and integrity, distributor licensure and tax issues.

Since joining HDA, Ms. Gallenagh led the Alliance's industry-wide efforts to replace a 50-state patchwork of pedigree laws with one national traceability solution, which became a reality through the enactment of the Drug Supply Chain Security Act (DSCSA) in November 2014. In 2014, she was honored by the industry with the Distribution Management Award for Industry Leadership, which honors an individual who has exhibited the highest standards of honesty and integrity, working to enhance industry relations and knowledge, as well as supply chain efficiency and security.

Gallenagh is a graduate of the George Mason University School of Law and The George Washington University.