News
Greg Drew, RPh, of Value Drug Honored With 2022 Nexus Award for Lifetime Achievement
June 07, 2022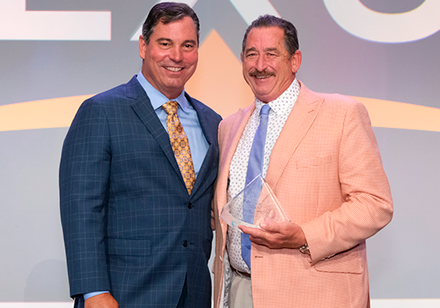 ORLANDO, Fla. — The HDA Research Foundation honors Greg Drew, RPh, President of Value Drug Company, with the 2022 Nexus Award for Lifetime Achievement. The Nexus Award, the healthcare distribution industry's highest individual recognition, was presented last night at the 2022 Business and Leadership Conference in Orlando, Fla.

Since 1956, the Nexus Award has been presented to HDA-member individuals for their exceptional character, career accomplishments, and leadership in HDA, the industry and their community. Honored individuals, who serve as role models for healthcare distribution excellence, are selected and voted upon by the HDA Executive Committee and Board of Directors, the HDA Research Foundation Board of Directors, and former Nexus winners who remain active in the industry.

"For more than a decade, Greg Drew has made significant contributions to Value Drug, to HDA, and to his community. I am proud to recognize all that he has achieved by presenting him with the 2022 Nexus Award," said HDA President and CEO Chester "Chip" Davis, Jr. "During his tenure as HDA Chairman, Greg helped enhance our ability to communicate the value of distributors to our nation's healthcare system and the importance of supporting the independent pharmacies that are critical to the health of our communities. Additionally, his significant counsel to many in this industry, including myself, and his forward-thinking ideas will help keep the pharmaceutical supply chain moving forward for many years to come."

A pharmacist by training, Greg was named President of Value Drug in October 2009, following 15 years at Rite Aid Corporation and previous experience leading independent community pharmacies. Over his tenure at Value, an independent pharmacy cooperative providing wholesale distribution services, he helped grow the company to business valued at just over $1B.

Through Greg's leadership, Value Drug expanded its distribution footprint significantly; established a specialty pharmacy services business, Value Specialty Pharmacy; and moved its headquarters to a state-of-the-art distribution facility in Duncansville, Pa. In 2018, Value Drug was named one of the "Best Places to Work in Pennsylvania" by the Team Pennsylvania Foundation. Over the years, Greg and his leadership team have hosted numerous legislators at Value Drug headquarters to underscore the role and value of the distribution industry.

Greg has actively participated in HDA committees, events and initiatives while with Value Drug. He served as HDA Chairman from 2018–2020 and Vice Chairman in 2018 and sits on the HDA Executive Committee and Board of Directors. Further, he has served on the HDA Research Foundation Board of Directors since 2013. Greg chairs the association's board-level Diversity, Equity and Inclusion Task Force, which was established in 2020 to help advance DEI efforts across the distribution sector. He is a longtime member of the Pennsylvania Pharmacists Association and in 2011 was awarded the J. Allen Duffield Pharmaceutical Industry Award in recognition of his services to the organization.

A respected leader in the community surrounding Altoona, Pa., Greg serves on the steering committee of Operation Our Town, which promotes healthy neighborhoods within Blair County, Pa. He also is a board trustee at Mount Aloysius College in Cresson, Pa. Further, Greg and his family established the Jessica Drew Sunshine Memorial Fund to provide scholarships to high school students in Hershey, Pa., and support various nonprofits, such as the Humane Society and the Special Olympics.

Greg is a graduate of the University of Southern Maine and the University of Massachusetts College of Pharmacy. He currently serves as an Adjunct Associate Professor of Pharmacy and Therapeutics at the University of Pittsburgh School of Pharmacy.

For more information about the Nexus Award for Lifetime Achievement, visit the HDA Research Foundation website.
ABOUT THE HDA RESEARCH FOUNDATION
The HDA Research Foundation is the 501(c)(3) nonprofit charitable organization of the Healthcare Distribution Alliance (HDA). The Foundation serves as the thought leader in driving research, education and discussion for all healthcare supply chain stakeholders, enabling the industry's ability to deliver efficient, safe and secure patient access to medicines and medical products. Learn more at
HDA.org/Foundation
.