Advocacy in Action: TopRx Provides On-the-Ground Perspective During Rep. Kustoff's Facility Visit
May 22, 2023
On May 4, HDA distributor member company TopRx gave a tour of their headquarters in Bartlett, Tenn., to Representative David Kustoff (R-Tenn.-08).
After meeting on Capitol Hill during HDA's April Hill Day event, Congressman Kustoff thought it would be important to visit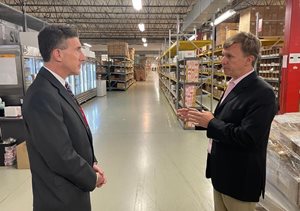 TopRx's facility and speak further with President Scott Franklin about the value and expertise of the healthcare distribution industry. Franklin, a member of the HDA Board of Directors, and his colleagues conducted the tour with Rep. Kustoff, who was joined by his Deputy Chief of Staff, Eliana Goodman.
Reinforcing the Value of Distribution
During the tour, Rep. Kustoff experienced firsthand the technical operations enabling TopRx to streamline the delivery of medicines and medical products to their pharmacy customers. Franklin engaged in productive discussions with the congressman about a range of company and pharmaceutical distribution industry topics.
While distributors are responsible for the delivery of 11 million medicines, vaccines and healthcare products safely, efficiently and reliably every day, their vital role in the supply chain is not always understood. Throughout the tour, TopRx was able to underscore the critical nature of the sector and demonstrate the industry's vital importance for Americans' daily healthcare needs.
"I am thankful for Rep. Kustoff and Eliana's time and attention during the distribution center visit," said Franklin. "The safe and efficient delivery of medicines and medical products is of utmost importance, and TopRx is proud to play a role in enabling our pharmacy partners to provide patients greater access to lifesaving treatments."
Continuing The Conversation
There are several current legislative initiatives that affect the pharmaceutical supply chain, including the Pandemic and All-Hazards Preparedness Act (PAHPA), commercialization of COVID-19 vaccines and therapeutics and the Drug Supply Chain Security Act (DSCSA). Accordingly, HDA and our members are working to continuously showcase the value of the healthcare distribution sector through tours and meetings on Capitol Hill.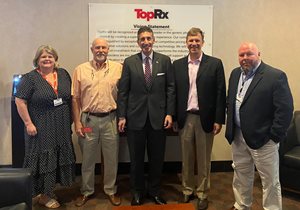 "It is important for members of Congress to have an understanding and appreciation of our industry's capabilities," said Franklin. "We are fortunate to have had the opportunity to give Congressman Kustoff a glimpse into how we deliver medicines each and every day."
HDA members who are interested in hosting governmental staff at their facilities can contact Abigail Kizer, Associate Director, HDA PAC and Grassroots, for support and information on scheduling a tour or meeting.
HDA has created federal and state advocacy toolkits, which provide the resources and best practices for members to become successful advocates on behalf of their companies and the distribution industry.
​