Convene: HDA's Professional Development Program
Take on exciting opportunities and grow your career with Convene's industry-focused events, resources and programs for professional development.
Advancing Careers. Making Meaningful Connections.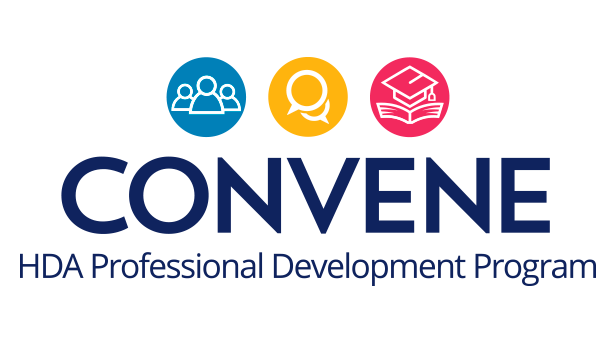 Convene, HDA's professional development program, brings together the industry's top supply chain executives and future leaders alike to inspire growth and share insights for developing a distribution-sector career.
Featuring live and virtual events throughout the year, the program includes:
Webinars highlighting such topics as communication styles, mentoring and leadership are provided periodically, often hosted free of charge to HDA members;

The HDA Mentoring Program, which has established professional relationships for more than 250 HDA-member participants at all stages of their careers;

In-person, career development sessions held conveniently during HDA member events, including the Distribution Management Conference and Business and Leadership Conference;

The Emerging Leaders Program is specially crafted to engage, inspire and grow the future leaders of the healthcare distribution sector and prepare them for the challenges of tomorrow;

The Women's Executive Forum, a network of female professionals brought together to discuss issues of common interest in the workplace; and,

The Karen J. Ribler Scholarship program, providing financial assistance to supply chain professionals pursuing graduate degrees.
Sponsors
Have an idea for a program or need further information? Contact Lisa Kanfer, Vice President, Membership and Development.

Developing Distribution Industry Leaders at Any Career Stage
Since 2014, the HDA Mentoring Program has successfully established and developed professional growth for more than 250 members, at all stages of their careers. Open to all HDA members, this program pairs distributors with manufacturers or third-party service provider professionals to avoid conflicts of interest. Mentors may guide mentees through specific projects or share general advice on navigating through a career in the pharmaceutical supply chain, resulting in the kind of real-world experiences that hone the skills needed for success.
Become a Mentor or Find a Mentor
The level of participation and type of relationship is up to you. Some participants may want to focus on a specific project or aspect of their current jobs; others may want guidance on navigating the industry or preparing for a new role or promotion. Accordingly, some mentor/mentee relationships will be long term and others will be short term; some partnerships will be structured, and others will be more fluid. One size does not fit all.
Participants must be HDA members and complete a brief questionnaire to assist in the matching process. The results of the survey will help pair you with a mentor or mentee that shares similar goals and objectives for participating in the program.
For more information, contact Anne Nevel, Vice President, Education.

Paving the Way for Future Healthcare Distribution Leaders
The Emerging Leaders Program is specially crafted to engage, inspire and cultivate the future leaders of the health delivery sector and prepare them for the challenges of tomorrow.
Program participants enjoy access to exclusive events, valuable real-world experience and up-to-the-minute industry insights. Joining this program offers the opportunity to more powerfully leverage career-building tools that will enhance your professional life and benefit the company you represent.
Benefits include:
Event registration discounts
Distribution Management Conference and Expo reception with executive members
Professional development educational sessions specifically designed for emerging leaders
Unique opportunities to connect with the Industry Relations Council (IRC)
Community engagement
Scholarship opportunities
Mentoring
Online resources
Networking events
Join Emerging Leaders Program
To be eligible for the program, applicants must: Be 39 years old or younger; work for a company with an active HDA membership; receive support from the applicant's supervisor; and submit a completed application form, with answers typed or printed clearly.
Applications are accepted on a rolling basis. The completed application should be submitted to Subrina Ghorashi, Associate Director, Education, HDA.
Healthcare Distribution Alliance
Attn: Subrina Ghorashi
1275 Pennsylvania Ave NW
Suite 600
Washington, DC 20004

Advancing Diverse Leaders and Generating Meaningful Opportunities for All
HDA's industry-wide employee resource groups (ERGs) provide unique opportunities for like-minded individuals to share experiences, expand their career goals, take on leadership opportunities and strengthen workplace cultures across the pharmaceutical distribution sector. Based on member feedback, HDA launched four ERGs — Black/African American, Hispanic/Latino, Asian American and Pacific Islander and Women — to create a space for all members to build a community and feel welcomed. Allies are also encouraged to participate.
Each ERG is self-governing and will aim to:
Help employees connect with others sharing similar experiences, challenges, interests and more;
Tackle industry issues and find creative solutions to bring about positive change to workforce culture and business operations;
Provide professional development and networking opportunities to promote growth at all career levels; and,
Seek opportunities to network with the HDA Board of Directors and other notable industry leadership to share innovative ideas.
The groups are further encouraged to set their own goals and work on projects based on their collective interests, passions and expertise.
Join an ERG
Members can join ERGs on a rolling basis. Please complete the interest form below to learn more and attend our introduction meeting on Tuesday, September 19 at 2:00 p.m. (ET).

Fostering Knowledge Through Educational Opportunities
As part of its mission to support innovation and education of pharmacy and supply chain professionals, the HDA Research Foundation, in conjunction with HDA's professional development program, Convene, is cultivating the next generation of supply chain leaders. The Karen J. Ribler Scholarship — renamed in honor of the Foundation's former COO — is available annually to graduate-level students currently working within HDA-member distributor and manufacturer companies.
Karen Ribler, who led the Foundation for nearly a decade, was a fierce advocate for not only the Foundation, but also academic pursuit and leadership development. With the goal of fostering knowledge and leadership through educational and professional development opportunities, the Foundation is proud to carry on her legacy by developing the future growth of HDA-member professionals and their companies — and by extension, enhance the efficiency and effectiveness of the pharmaceutical supply chain.
For more information, contact Rachel Newman, Director, Foundation.
APPLY TODAY! (OPENS IN A NEW WINDOW) LEARN ABOUT PAST WINNERS